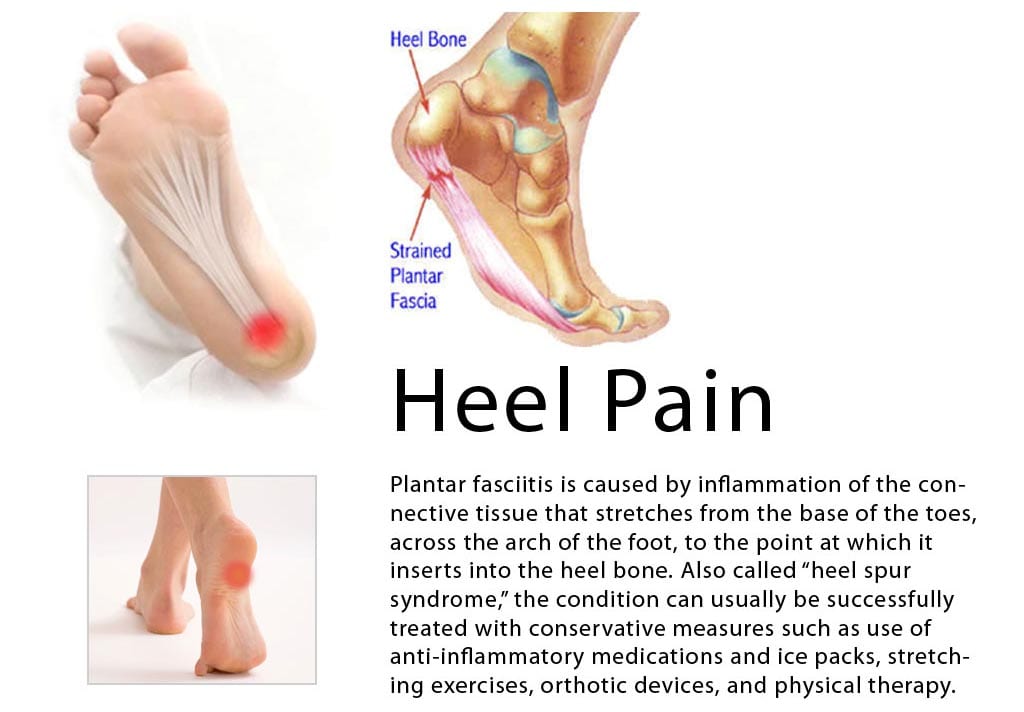 Overview
The plantar fascia is a strong, relatively inflexible, fibrous ligament band that runs through the bottom of the foot. That band helps to keep the complex arch system of the foot, absorb shock, plays a role in body balance and in the various phases of gait. The band transmits your weight across the bottom of the foot with each step you take. When the heel of the trailing leg starts to get off the ground, the band bears tension that is approximately twice the body weight. The tension on the band at this moment is even greater if the calf muscles are not flexible enough.
Causes
You are more likely to develop plantar fasciitis if you are Active, sports that place excessive stress on the heel bone and attached tissue, especially if you have tight calf muscles or a stiff ankle from a previous ankle sprain, which limits ankle movement eg. Running, ballet dancing and aerobics. Overweight. Carrying around extra weight increases the strain and stress on your plantar fascia. Pregnant. The weight gain and swelling associated with pregnancy can cause ligaments to become more relaxed, which can lead to mechanical problems and inflammation. On your feet. Having a job that requires a lot of walking or standing on hard surfaces ie factory workers, teachers and waitresses. Flat Feet or High Foot Arches. Changes in the arch of your foot changes the shock absorption ability and can stretch and strain the plantar fascia, which then has to absorb the additional force. Middle-Aged or Older. With ageing the arch of your foot may begin to sag - putting extra stress on the plantar fascia. Wearing shoes with poor support. Weak Foot Arch Muscles. Muscle fatigue allows your plantar fascia to overstress and cause injury. Arthritis. Some types of arthritis can cause inflammation in the tendons in the bottom of your foot, which may lead to plantar fasciitis. Diabetes. Although doctors don't know why, plantar fasciitis occurs more often in people with diabetes.
Symptoms
The condition typically starts gradually with mild pain at the heel bone often referred to as a stone bruise. You're more likely to feel it after (not during) exercise. The pain classically occurs right after getting up in the morning and after a period of sitting. If you don't treat plantar fasciitis, it may become a chronic condition. You may not be able to keep up your level of activity, and you may develop symptoms of foot, knee, hip and back problems because plantar fasciitis can change the way you walk.
Diagnosis
After you describe your symptoms and discuss your concerns, your doctor will examine your foot. Your doctor will look for these signs. A high arch, an area of maximum tenderness on the bottom of your foot, just in front of your heel bone. Pain that gets worse when you flex your foot and the doctor pushes on the plantar fascia. The pain improves when you point your toes down. Limited "up" motion of your ankle. Your doctor may order imaging tests to help make sure your heel pain is caused by plantar fasciitis and not another problem. X-rays provide clear images of bones. They are useful in ruling out other causes of heel pain, such as fractures or arthritis. Heel spurs can be seen on an x-ray. Other imaging tests, such as magnetic resonance imaging (MRI) and ultrasound, are not routinely used to diagnose plantar fasciitis. They are rarely ordered. An MRI scan may be used if the heel pain is not relieved by initial treatment methods.
Non Surgical Treatment
Treatment of heel pain caused by plantar fasciitis begins with simple steps. There are a number of options for treatment of plantar fasciitis, and almost always some focused effort with nonsurgical treatments can provide excellent relief. In rare circumstances, simple steps are not adequate at providing relief, and more invasive treatments may be recommended. Typically, patients progress from simple steps, and gradually more invasive treatments, and only rarely is surgery required.
Surgical Treatment
Surgery may be considered in very difficult cases. Surgery is usually only advised if your pain has not eased after 12 months despite other treatments. The operation involves separating your plantar fascia from where it connects to the bone; this is called a plantar fascia release. It may also involve removal of a spur on the calcaneum if one is present. Surgery is not always successful. It can cause complications in some people so it should be considered as a last resort. Complications may include infection, increased pain, injury to nearby nerves, or rupture of the plantar fascia.
Stretching Exercises
Calf stretch. Lean forward against a wall with one knee straight and the heel on the ground. Place the other leg in front, with the knee bent. To stretch the calf muscles and the heel cord, push your hips toward the wall in a controlled fashion. Hold the position for 10 seconds and relax. Repeat this exercise 20 times for each foot. A strong pull in the calf should be felt during the stretch. Plantar fascia stretch. This stretch is performed in the seated position. Cross your affected foot over the knee of your other leg. Grasp the toes of your painful foot and slowly pull them toward you in a controlled fashion. If it is difficult to reach your foot, wrap a towel around your big toe to help pull your toes toward you. Place your other hand along the plantar fascia. The fascia should feel like a tight band along the bottom of your foot when stretched. Hold the stretch for 10 seconds. Repeat it 20 times for each foot. This exercise is best done in the morning before standing or walking.